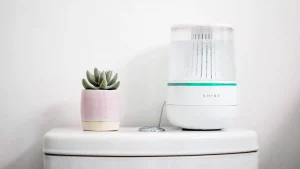 Updated 2/18/22: Today I got a notification that the company has filed a "General Assignment for the Benefit of Creditors", which according to Cornell Law School is basically an alternative to bankruptcy. So guess that means nothing is going to matter about this company after all.
The Shine Bathroom Assistant first crossed my feed back in May 2021. It certainly intrigued me for a few reasons I will cover in a minute. The idea behind this system it to automatically do a job NOBODY likes to do….keep a toilet clean! For me personally there is a few other reasons this looked interesting. My house has a whole house water softener that has a built in filtration system. The water is great, but it also means that the city water chlorine is removed (which helps keep things clean). That being the case we have had to clean more often. Also the toilets I installed are pressure assisted. This means you can't use a tank "drop in" style cleaner because the tank has an inner tank and no water in it porcelain portion. Needless to say, I saw a lot of upside in the Shine Bathroom Assistant. Now, let's see how the rubber meets the road.
The system is still listed on the website as "Pre-Order" Status. I placed my pre-order back in May 2021. I have four bathrooms so for the discount I ordered four units. After many months of waiting I finally received my order today January 12th, 2022. So from a timing perspective you should not expect an overnight delivery, because I think they are still processing orders in the order they came in even back into 2021.
The packaging was decent easy to unpack, with the exception of the cleaning pods. These items are plastic tubes, with a foil closing on them. They are very tightly packed in the Styrofoam and the foil does almost rip off when you extract them. Also one of the three in the first unit I opened was actually drained/empty.
Shine Bathroom Cleaning Pods
Here is a place where I had a lot of issues. The mobile app is still missing functions that say "Coming Soon" like updating WiFi or calibration. This is odd to me that this is a live app with so many coming soon items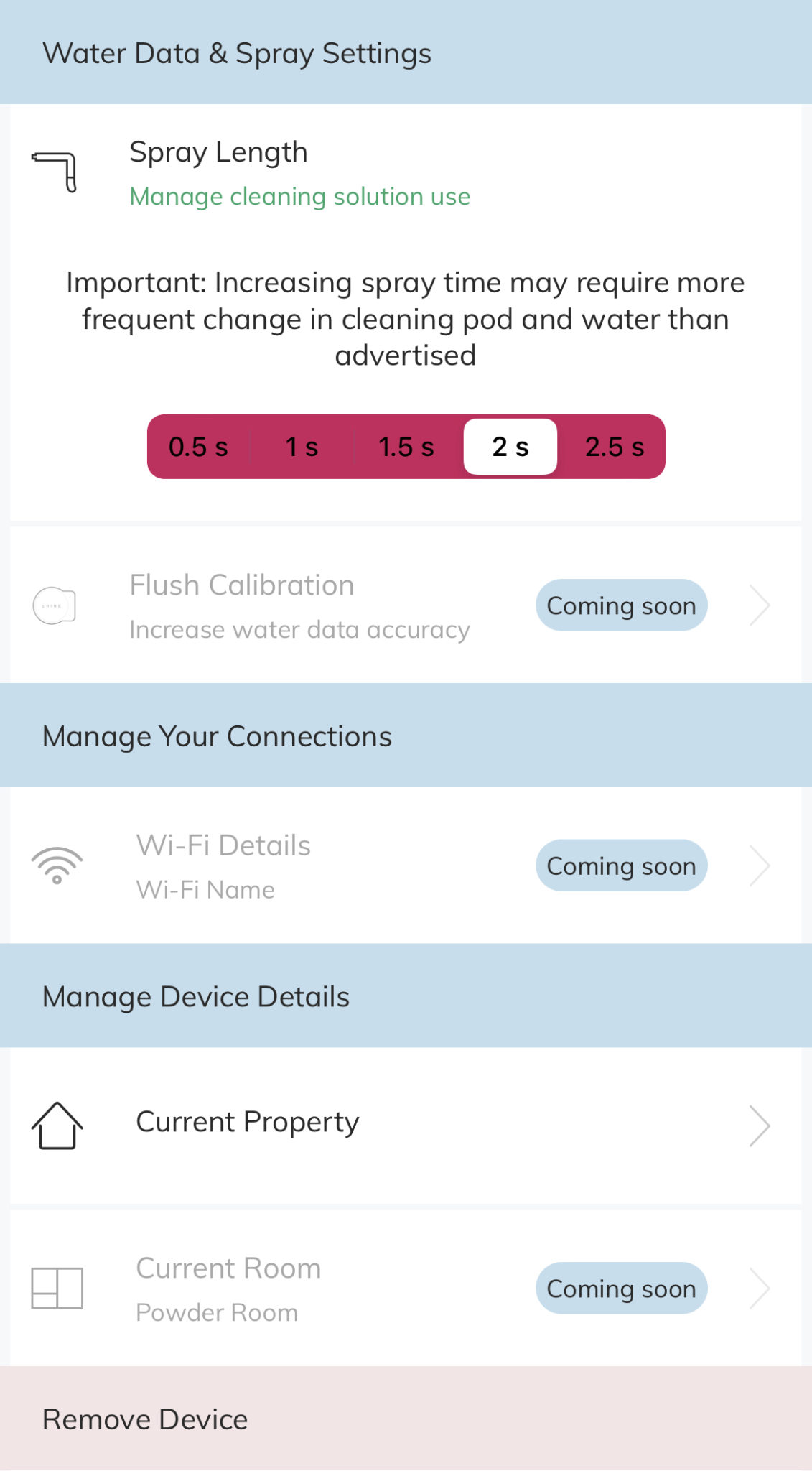 The other thing I ran into was two of the four units did not work right. One unit would not "create" the cleaner. If you pay attention as you setup the app says there will be "bubbles". The video below is what it is supposed to look like and this never happened. You can also tell when it's created the cleaner as it actually gets a "clean" smell to the water. That's the best way I can describe it. Also the unit would not spray the bowl so I had to contact support.
Chat support was good enough to replace this unit without an issue. Then I went to another unit and it was completely DOA. The unit would not power up. I also tried another base and the reservoir still did not power up. I have not re-contacted support as of writing this but I suspect they will also replace this unit.
Updated 1/13/21: I got on chat support and they quickly replaced the other unit. Oddly they are not asking for any of the bad units back. That strikes me as very interesting. At $129 a piece you'd think they want them back for inspection or something.
Another seemingly odd thing is the default spray setting is 1 second and the first couple flushes never ran the spray long enough to "prime" the spray hose. That is something to be aware of as you test it out. I set the spray times to the maximum for the first few then lowered it to 1.5 or 2 seconds to ensure enough spray for the elongated bowls….which brings me to that aspect. All the bowls are "elongated" so only time will tell if the spray function reaches the front of the bowls.
Also, they "claim" that the device is Alexa enabled, yet there is NO indication on the Alexa side on how to integrate this. Most every device I have you need to enable it or add the device, but this is nowhere to be found. That leads me to another setup issue. Their support site and KB's are generally not very useful. They were written a while back but go to their support site and search for 'Alexa' nothing is found.
Shine Bathroom Alexa Update 1/13/21: While on chat I asked about Alexa and this was the response from Meredith on chat, "It has not been released yet, they are making the final touches on it and it should be released in the next few weeks".
This is something I will have to report back as we see the two working units do their thing over time. One replacement unit order was placed and I need to get the other one done. The 50% failure rate on a four device order is a little disturbing to be honest. I am hopeful that with our water softener/filter this will over time help keep things clean, but I am yet to determine if it will be the hassle of the initial setup issues and initial cost. The ongoing costs of the cleaning pods will have to be checked too.