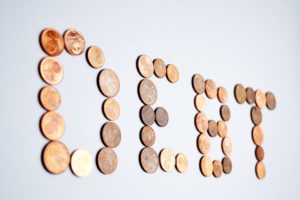 I am not a financial advisor, or a wizard.  What I do have is a lot of common sense, and a half decent head on my shoulders.  There are a lot of "pros" out there that cover this but I wanted to just talk about my own personal experience with debt reduction.  I do think people think it's too hard to manage but let's look at some easy examples.
When we moved to Tennessee, we took on a lot more debt than we had back in New Hampshire.  Things added up fast and within a couple years after moving we had all these loans. 
Building Loan/Mortgage
RV Loan
Zero Turn Mower Loan
Polaris UTV Loan
Jeep Wrangler Loan
Grand Cherokee Loan
Home Equity Line
Before we moved we had ONE loan, just the house mortgage that only had 12 years left on it.  You look at all these and you think "how am I going to get out from under all these?"  The answer is surprisingly simple, but it takes TIME, and focus.
Pick One or Two and FOCUS
For me, it was about looking at the things I could work down first quickly.  You can't tackle it all at once.  So the first thing was dedicating some extra monthly to the house mortgage on a consistent basis.  It didn't matter the amount, as long as it was done every month.  Also my bank makes it easy to log in and pay extra and assign it to principal.
Second, I looked at the smallest of them to get an easy win and start paying extra on that.  I think at the time it was the Zero turn or the Polaris.  Those both were small and short terms on them, only three to four years.
How the Real Magic Happens
Now that first loan took time, but here's the kicker.  Let's say the original Polaris payment was $250 a month for P&I.  I kicked in another $250 just to principal, so effectively I was paying out $500 a month to that item.  Once that one was paid off I set my sites on the next item, the Zero turn.  Once the Polaris was paid off I had $500 to spare, and the mower loan may have been $350 a month for P&I.  Instead of playing games I just shifted the $500 a month over to that on top of the regular payment.
When that loan was gone, now you have $850 a month laying around.  So set your sites on the next loan, one of the jeeps and kick that $850 over to the loan.  Effectively every time you pay off one thing, you redirect the funds to the next one.  You basically pick them off one by one, each time compounding the extra you can kick in.  Let's face it if you are able to spend that month already once one is paid off do the right thing and kick all if not most of it over to the next one to knock down.
So How Did it work out?
it's been just over six years, and I can say the list is only down to these three loans, but this redirection method has worked.  If kept up the remainder of these things could be gone in 5-10 years depending on the focus and changes to jobs, etc.  
Mortgage
RV Loan
Home Equity Line
Was it easy?  No of course not.  I will say this was done in the last six years with TWO job changes, no stock option sales available to me, or largely without any "bonus" payouts.  This was done solely using my available salary, and some very tight budgeting especially with the job losses.