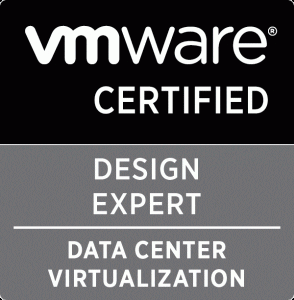 Over the last nearly 7 years I've worked at VMware I have held positions in PSO, the original "Cloud Practice", which then became the COE.  I've done a short time with the Nicira folks after the acquisition, and before the Networking BU was formed.  Then I went back to Global technology solutions, and finally to the vCloud Air Business Unit in Technical Marketing.  That sounds like a lot of jumps, but really it's not when you think about it spanning nearly 7 years.  I've had the chance to work on many different projects, with many different people, and learn more about new things than I ever though possible.  So what then is next, and why the VCDX logo?
Growth doesn't just happen. – John C Maxwell
The answer is actually pretty simple.  Since I am an active member of the VMware community I have been asked to take over a role with the VMware Education team with a crossover position to Global Services as a Principal Architect and VCDX Evangelist.  My primary role will be to become a global evangelist for the VCDX Certification program through the community, bootcamps, and events like PEX and VMworld.  So you're not going to get rid of me at those events anytime soon unfortunately!  I was always a supporter of the program early on and I have a few ideas to help drive more awareness and greater visibility of it's value to both prospective holders and partners alike.  Holding VCDX #37 myself gives me a unique position of knowing the early history and providing some vision on what I think it can become.
I will be helping to shape the program while trying to help customers and partners see the value in it and trying to get it more visibility and support.  I will help design and deliver the bootcamps as well as the defenses.  What makes this exciting to me is I have been removed from the program for some time since getting my own VCDX.  I want to try and help this track gain some momentum and also help people succeed in the program.  I have a unique way I approached it myself.  Even Frank Denneman told me once long after paneling my defense "You just talked to the panel and had a genuine easy going conversation".  Something I want to bring to the program and the bootcamps is a better understanding of PRESENTING to the panel.  I've recently been asked to help with some community panels to discuss the topic in general.  I'm not the world's best presenter, but I think I do okay and coming from someone like Frank whom I respect, it means I can try to help coach others on some skills that could help them.
The other part of my role will be to still help bridge the gaps with VMware solutions.  My first order will be to do a massive Transfer of information to the GTS team on vCloud Air.  I've already been working with some of them to help drive the development of some PSO services around the offering especially Disaster Recovery.  I think once more people can learn more about it, we can work together to fill some gaps that customers and partners need.
What makes this split role interesting is it's not 100% education and not 100% technical, it's a nice blend of the two so I don't get too bored doing one or the other.  I will have time to maybe even start writing some more, and I may dedicate some more time to blogging about the certifications as well as the gap solutions I will be working on.  In no way will my activities get reduced, I suspect they will increase.  For the last few years I have been known as a vCloud go to person, so I hope to build a new following for VCDX as well as vCloud Air based on the knowledge I am carrying forth from it.
I will be officially starting the new role on September 29th and my last day in my current role will be September 26th.  So the next couple weeks will be spent transitioning and transferring information as needed in both directions.  I will still be presenting at the Atlanta VMUG next week as well as the VeeamON conference in October.