As I have been building out this crazy vCloud Director Hybrid setup in a few of the public clouds I am using from Virtacore, Stratogen, and the VMware Evaluation Cloud, I decided to try hosting all the vCloud Connector components in the various clouds.  One thing I remember from the vCloud Connector 1.0 days was the Server component was not happy behind a NAT.  That's because the online web interface for vCloud.vmware.com tried to connect to the local IP address and it really just did now work behind NAT.  Now for me I am trying to use ALL online access to all these things so this is what I setup so far:
vCloud Connector Nodes Installed in:
Virtacore's IAD Cloud

Virtacore's LAX Cloud
VMware IAD Eval Cloud
Stratogen Cloud
Each of these nodes is on a "Public" network with external IP Addresses and firewall rules for the following ports:
vCloud Connector Server Installed in:
VMware IAD Eval Cloud

Same vApp as the Node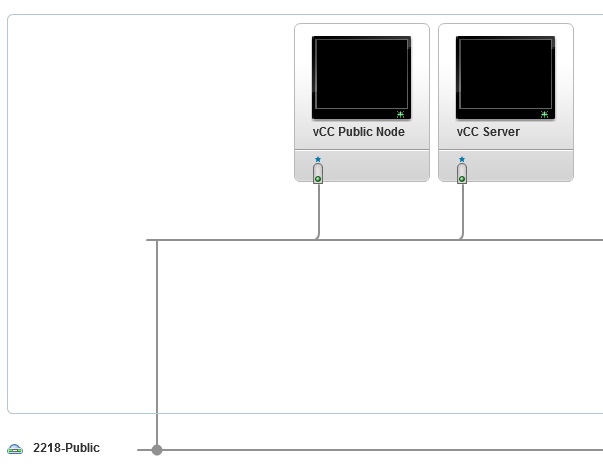 Now the firewall rules for the server are a little different and I did get an error on vCloud.vmware.com that it does need an additional port open but it does work 100% from the online vcloud.vmware.com portal
Firewall Rules for the Connector Server:
443
5480 (Management)
80 for vCloud.vmware.com
NOTE:  These are not deployed from OVF with the VMXNET3 interface so for giggles be sure to remove the current interface and add a new one that is using VMXNET3 specifically by checking the "Show Network Adapter Type" box.
Configuring the vCloud Connector Server
Now something I was messing with was getting the vCloud Connector Server connected to the local vCloud Connector Node.  Due to the Edge Gateway I could not use the external IP on in the vCloud Connector Server config as you can see below.  I needed to use the local IP for the Node that's in the same vCloud Director Cloud and in the same vApp as shown above.  I think there was some routing issue but it does not really matter since the Node and the Server are in the same network you can use the local IP address or local DNS for the connection.  The other nodes you can see are true external entries.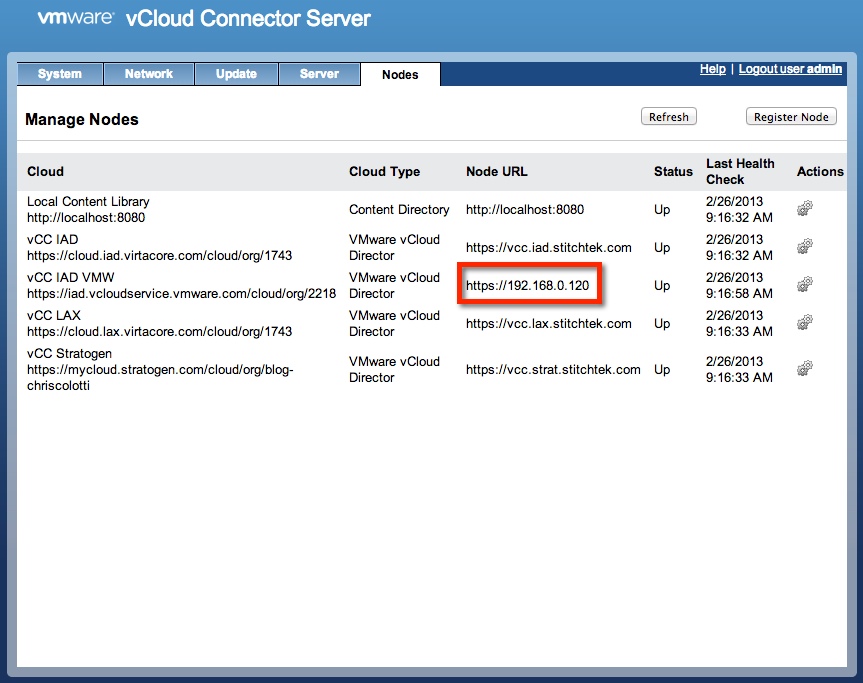 Once I did that the server is now connector to all 4 clouds through the online portal vcloud.vmware.com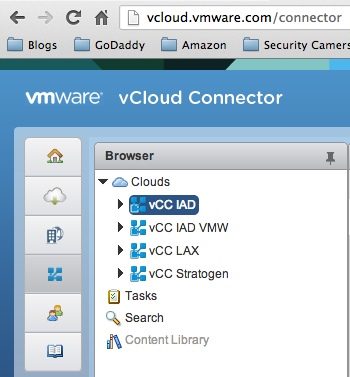 Migrating Templates
Now I was ready to move my Windows template from one cloud to Stratogen so I can continue to work on this expanded vCloud Director Hybrid Cloud setups.  As I continue with this experiment I will add more blog posts so people can really understand the power of how to use all this technology