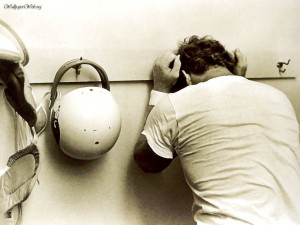 This was going to be short and sweet,and just something I need to get out of my head so I can move on with my week.  As you can see, not so short, but sometimes I find writing my thoughts down helps me just get it out of my thought process.
What can I say?  I am physically and emotionally exhausted.  I woke up sore, tired, and just disappointed.  The funny part is…..I pretty much felt I knew what the outcome was going to be.  That does not mean I wanted my Patriots to lose, I just had that feeling in the pit of my stomach the same as I did in 2007.  Sometimes you just know when it is not going to be.  I guess the really frustrating part is not that I had the hunch, but that it was almost the same kind of game as the last trip.
The defense played like the 32nd ranked group they are, especially not being able to make a stop in the last two minutes of the game with the lead.  The offense was slow, sluggish, and seemed like they just were not in the game….the same as 2007.  Of course there is the long list of bad plays that comes to mind:
First play from scrimmage with a safety on their first series of the game…. really?

A Fumble recovery with a 12 men on the field penalty……no excuse for that

Stupid throws by Brady, one resulting in an interception that just didn't need to be thrown….just bad decisions

Dropped passes by the likes of Welker, Hernandez, and Branch that hit them in the hands….you get paid to catch those

A third and 8 stop negated by an offsides penalty……just plain stupid

Time management calling in the last two minutes that reminded me of the Eagles clock management in SuperBowl 

XXXIX against the Patriots
Frankly listening to anything from the mouth of Chris Collinsworth makes me want to just puke anyhow.  Never once has the guy called a Patriots game and been even slightly impartial
I need not even continue with the list.  Yes it is easy to be an armchair quarterback on a Sunday afternoon, but that was not their first rodeo.  There was more than enough guys that had been there before.  Brady looked like a scared deer on a dirt road that had never seen a car before for most of the first half.  Not quite the performance of a 2-time league MVP.  I don't even care that it was the Giants really.  I mean I like every warm-blooded New England fan wanted revenge, but revenge on what?  We played like garbage in 2007 as well, so the only revenge due would be on our own lack luster performance of four years ago.
I give credit where it is due regardless of the team.  The Giants came to win.  They made fewer mistakes, they simply played better.  The better team one.  Do I have to like it?  Of course not, but I do reserve the right to be annoyed with my team for putting up stupid passes, poor calls, and not even playing like they even wanted it.  I love the Patriots I always will, that will never change.  The Kaft family has done more for their fans, players, and community than anyone.
I do also give credit to the Kraft family and Big Bill for taking what seemed to be a tough bunch, 32nd ranked defense and all, to the show.  The fact they made it there with some of the games they had this season was still great.  However, some of the luck that won those other games was not going to get you through the superbowl.  God bless the Kraft Family and I think MHK should be proud.  They should leave those patches on every year IMHO as a reminder of what this season meant.  I think they should add them to the jerseys they sell in the pro shop too.  Why not, she was and will always be in the hearts of the players and fans.
I am just not happy today and I am going to crawl back under a rock for a few days.  I simply ask this of people who know me well.  Don't be a jerk.  I have never gloated publicly to any of you so have a little respect and don't do it to me.  It the roles were reversed I KNOW how you would feel and I respect other's feelings when they take a hard loss.  For anyone that does not think I take my team seriously I look at that "Flying Elvis" Every day on my right shoulder.  So good or bad I am reminded of almost all the Patriots games I watch with my friends and family from the past and present.
I am and will always be a New England Patriots fan, but damn……you guys sucked yesterday.  I tip my hat to the Giants.