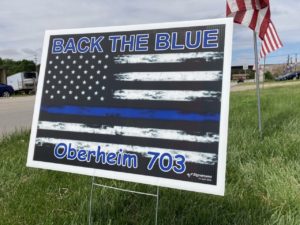 On May 19th Chris Oberheim responded to a domestic call and subsequently lost his life in the line of duty to a previously convicted felon carrying a stolen weapon.  It was a death that has rocked the community he served to the core.  You may ask yourself, "Why is an IT guy from Tennessee even mentioning this?  Well I am about to tell you because you can be surprised how things half way across the country affect someone like me and how small the world really is.
Many of us have small, but close circles of friends.  I am no different and in mine I have people that range from IT people, entrepreneurs, doctors, plumbers, and yes law enforcement.  The small circle of vastly different friends I keep sometimes lends itself to interesting and also differing conversations.  My closest friends and I maintain similar, and sometimes different views, but we remain close.  This past weekend was no exception and for me was pretty emotional even though I did not personally know Chris Oberheim.
I do however, have a very good friend in Illinois who is a retired police officer of the Champaign Police Department.  He knew officer Oberheim and his partner well.  I was among many people he called when he first found out about the shooting.  Being retired from the same department, and having been in a few gun fights himself, I could see this was going to be a hard week for him.  Cohesity happened to give the entire company extra days prior to Memorial Day so I jumped in the truck and drove eight hours to his house to hang out.
For me this was not just any visit.  I knew he was hurting, what I did NOT know was how hard this would hit me as a complete outsider to his law enforcement world.  It started when the state police released the body cam videos the evening I arrived.  These are not easy to watch, and what you have to understand is I sat and watched these as they came out with my friend.  Here are all the the videos they released last Thursday.
These should NOT be easy to watch.  Your heart should sink into your stomach.  You are watching REAL LIFE where Chris Oberheim is fatally shot three times and Jeff Creel is also shot 3 times.  My friend spent hours replaying these videos in his head.  Wondering what they could have done different, if anything.  At the end he concluded they did EVERYTHING right.  They had zero indication there was an armed threat.  Their approach to the vehicle was textbook according to him.  The issue was a convicted felon with a stolen weapon, half way through a bottle of bourbon who decided to kill a cop. 
From my perspective Jeff Creel is plain and simple, a hero.  He not only took two in the vest and a through and through in the arm he got up and put all four well placed shots into the murderer of his partner.  All of this happened in less than 15-20 seconds and an officer's life was lost.  Once again you may be asking "why does Colotti care so much?"
The answer is simple.  I had to sit with my friend and watch HIS friend get murdered over and over.  I had to watch him struggle with the "Why?" and "What could they have done" over and over in his head.  I had to hug him while he wept for his loss.  Mind you these videos came out one day after the funeral for Chris Oberheim so his emotional wounds were still fresh.  
On Saturday I went with him to deliver some food to the Police Department.  I only met a few other guys there but again, as an outsider I was witness to their pain.  I listened to them all discuss the event again, and analyze it together.  All I could do was shake their hands, thank them for protecting others, and tell them I was sorry for their collective loss.
What I have come to realize in the days past, is that I cam personally convinced there are a lot more GOOD cops out there than bad ones.  The issue is the much larger silent majority that back the blue don't get NEARLY the airtime of the videos of the bad cops doing stupid things.  These videos have about an average of 30k views.  I want to know why these have not gone viral?  Why hasn't the media and the world seen these and shared them so people can see an actual good cop get murdered.  Instead we are over rotating to show the small majority of "bad cop" incidents.  
Make no mistake, I do believe racism still exists in this country.  I do believe I would be and I am treated differently by some police.  I also believe that these men and women DO protect the vast majority of us.  I don't believe in defunding the police, I do back the blue.  What we have to do is all realize there is just as many videos like this that show good cops getting murdered as there are bad cops making bad decisions.  We also need to understand that without law and order there would in fact be chaos.  Police are already outnumbered and now they act in fear of what someone might capture on a video camera.
Well here you have video footage, just the same as anyone else can capture from their own body cams and it shows murder of a cop, plain and simple.  Let that sink in for just a second and watch these over and over again until you understand that like I have.  My heart hurts for my friend, Oberheim's family, and the community because this too is the reality we live in.  There is two sides to every story and more people need to see THESE stories as well.  I would never wish anyone to experience it as close as I did, but sadly that may be what it takes.
If you have the time as well you can donate to Chris Oberheim's family via GoFundMe and they are working on setting up a fund in his name.